Welcome to the South Thanet Conservative Association
To find out about our news, events and campaigns in South Thanet, please contact us on 01843 589266 or by email on stconservatives@btconnect.com. You can also click on the news tab, for updates on what work we are doing locally, and the events tab for details of upcoming events - we look forward to hearing from you.
THANET DISTRICT COUNCIL, NEWINGTON WARD, BY-ELECTION
** If you, or anyone you know, would be interested in applying to be our candidate in this By-Election, please contact us by phone or email by Wednesday 16th Dec 5pm.
Tel: 01843 589266 email: stconservatives@btconnect.com
The Association has also started the process of selecting Candidates for the Kent County Council Elections in 2017. Should you be interested in putting your name forward, and you would like further information, please contact our Chairman, Lynne Conolly, South Thanet Conservative Association on: 01843 589266 / stconservatives@btconnect.com

I believe we're on the brink of something special in our country.
This year, we've seen more people in work than at any time in our history; more of our children starting university than ever before; more British entrepreneurs setting up shop than anywhere else in Europe.
Wages are rising. Hope is returning. We're moving into the light.
But we're not there yet. We're only halfway through.
We can make this era – these 2010s – a defining decade for our country: the turnaround decade.
And our goal is a Greater Britain.
With strong defence and a strong economy.
An NHS that there's for everybody, and schools that stretch our children.
And over the next five years we will show that the deep problems in our society are not inevitable.
That a childhood in care doesn't have to mean a life of struggle.
That a stint in prison doesn't mean you'll get out and do the same thing all over again.
That being black, or Asian, or female, or gay doesn't mean you'll be treated differently.
A Greater Britain – made of greater expectations.
Where renters become homeowners, employees become employers, a small island becomes an even bigger economy, and where extremism is defeated once and for all.
A country raising its sights, its people reaching new heights.
A Greater Britain – made of greater hope, greater chances, greater security.
So let's get out and make it happen.
Yours,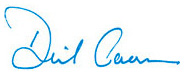 David Cameron